Custom Quote Request Form
Beverage Packaging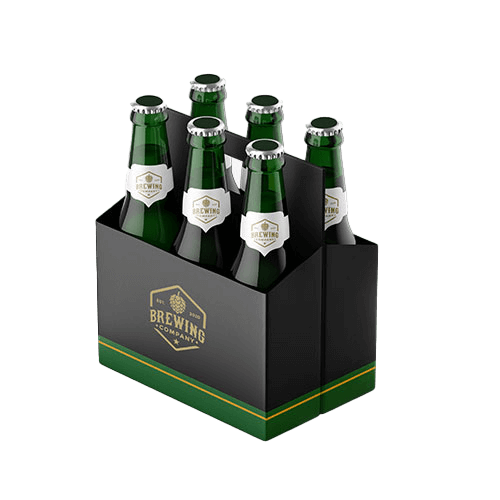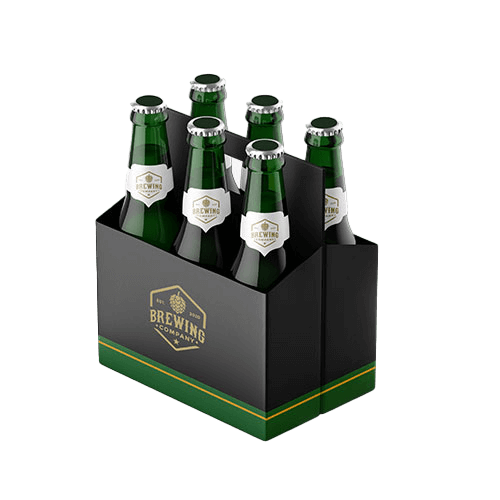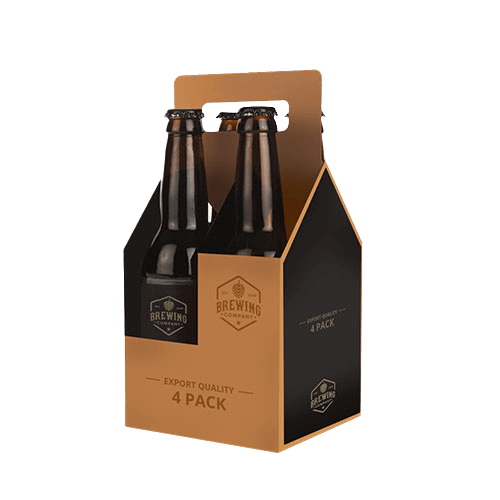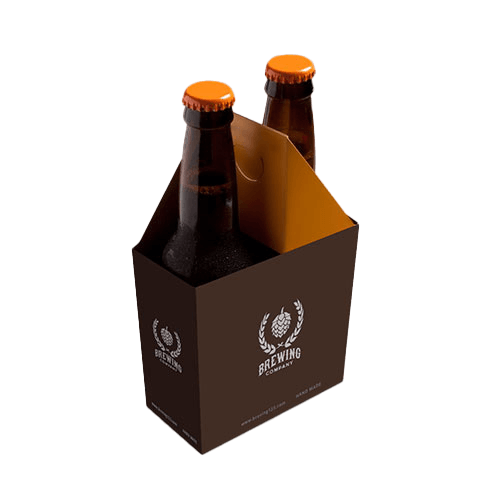 FAQ's
Specifications
Description
Reviews
Q:
What is Beverage Packaging?
A:
Beverage packaging is used to hold canned or bottles beverages and is commonly referred to as 4 Pack or 6 Pack Beverage Carriers. This product is a simple one-piece concept with beverage slots for easy access and optimal product presentation.
Q:
What material is used to produce Beverage Packaging?
A:
Beverage Carriers can be produced with different types of corrugated and paperboard material options. This product does not require FDA certification or food-safe coatings as it is not intended to be in direct contact with edibles.
Q:
Which parts or sides of beverage cartons can I customize?
A:
All sides of the cartons are fully customizable — front, back, top, bottom, outside, and inside. Inside printing does require an additional charge. Please work with your account representative to discuss any specific requirements.
Q:
How long does it take to produce custom beverage cartons?
A:
Orders for a sample beverage carrier or box can take 6-8 business days to produce depending on the complexity of the design.

Bulk orders of branded beverage carriers or boxes take approximately 10-12 business days to print.

Shipping transit time is in an additional 3-4 business days.  Please note that these are approximate production times and can vary depending on the complexity of the design and load on our production facilities.  If you have specific timelines that you need to meet, please make sure to discuss any such requirements with your account representative.
Q:
Are there any specific regulations regarding the materials permitted for manufacturing beverage packaging?
A:
Yes, the FDA has specific guidelines to guarantee that packaging materials, particularly those that come into direct contact with ready-to-eat food, are safe to use in order to prevent any product contamination.
Q:
What guidelines apply to the labeling and packaging of organic beverages?
A:
In order to carry the 'organic' label, beverage products need to adhere to the USDA's National Organic Program standards. In general, these standards require that products displaying the 'organic' designation should be manufactured without the use of synthetic fertilizers, specific pesticides, genetic engineering, or radiation.
Q:
Do specific regulations exist that govern the permissible health claims that can be displayed on beverage packaging?
A:
Yes, all health claims must undergo an evaluation process by the FDA. Making inaccurate or deceptive claims can result in legal and punitive measures taken by regulatory authorities.
Material
White: Uncoated Stock, Textured Stock
Brown: Natural Brown Kraft Card Stock
White Front Colored Back: CCNB (Grey Back), CCKB (Kraft Back)
Shipping Boxes: Brown Corrugated Stock or Forte
Material Thickness
Cardstock Thickness: 12pt, 14pt, 18pt, Custom
Corrugated Stock: 3-ply corrugated
Finishing Types
Lamination: Gloss, Matte, Sandy Matte, Soft Touch, Linen
Coating: Gloss AQ, Satin, Varnish, Spot UV, Flood UV
Features
Foil Stamping
Embossing
Debossing
Die Cutting
Metallic Inks
Custom Size
Other Options
Handles
Window Cutouts
Scoring and Gluing
SKU#
FP-001
Creative and Sustainable: Innovative Beverage Packaging Ideas for Brands
Beverage packaging refers to the various types of packaging styles and materials used to package and store different types of beverages, such as water, soda, juice, wine, and beer. Beverage packaging serves the primary function of safeguarding the contents against contamination, maintaining the quality and taste of the product, and ensuring its safety during transport and storage.
Sustainable packaging offers numerous benefits for the environment and the beverage industry. Here are some of the key benefits:
Reduced Environmental Impact: Sustainable packaging reduces the industry's environmental impact by using renewable, biodegradable, or easily recyclable materials. It helps to reduce waste and prevent pollution of natural resources.
Improved Brand Image: Beverage companies that use eco-friendly packaging can enhance their brand image by showing their commitment to environmental sustainability. It can attract environmentally conscious consumers and create a positive brand reputation.
Cost Savings: Sustainable packaging can help reduce costs for beverage companies by using less expensive materials than traditional packaging materials. Additionally, sustainable packaging can reduce waste and transportation costs.
Enhanced Product Quality: It can help preserve the product's quality and freshness by using materials that provide better insulation and protection from light and air. It can help improve the product's shelf life and reduce food waste.
Innovation and Differentiation: Eco-friendly packaging can offer new and innovative packaging options that differentiate a brand from its competitors. It can create a unique selling proposition that can help to increase sales and brand loyalty.
There are several types of packaging used in the beverage industry. Some unique and widely used packaging types include:
Cardboard Boxes: Cardboard boxes are a versatile option for packaging a range of beverages, including beer, wine, and soft drinks. They can be made in various sizes and shapes and can be customized with branding or logos. In addition, custom-printed boxes can be used for transporting and storing beverages and are easily recyclable.
Point-of-Sale Displays: Point-of-sale displays are designed to promote products and encourage consumers to purchase. Cardboard display boxes can be customized with branding or logos and can be used to showcase a range of beverages, including energy drinks, juice, and water.
Tetra Pak Cartons: Tetra Pak cartons are used for juice, milk, and other non-carbonated beverages. They are lightweight, easy to transport, and can be produced in various sizes. In addition, tetra pak cartons are recyclable and have a low carbon footprint.
Corrugated Boxes: Corrugated boxes are a popular type of beverage packaging made from layers of fluted cardboard material. They are widely used for shipping and storing various beverages, such as wine, beer, and soft drinks.
Bottle Neck Hang Tags: Bottle neck hang tags can come in various sizes and shapes and can be customized with different designs, graphics, and branding messages. They can be made from multiple materials, such as plastic or cardboard, and can be easily attached to the bottle's neck with a string or adhesive.
Cardboard Carriers: Cardboard carriers are the most common beverage carriers made from sturdy cardboard that can hold multiple cans or bottles. They are often used for beverages such as beer or soft drinks and can be easily recycled.
Keg Collars: A keg collar is a label or tag that is attached to the neck of a keg to provide information about the beer, such as the brand, style, alcohol content, and batch number. Keg collars can also include a production date and expiration date.
Growler Tags: A growler tag is a small label or tag attached to a growler. Growler tags can include information such as the brewery, beer name, style, alcohol content, and date filled. In addition, they have other details, such as tasting notes or food pairing suggestions.
Paper Cups: Paper cups are commonly used for serving hot and cold beverages. These cups are made from paper or cardboard and coated with a layer of polyethylene to make them waterproof and prevent leaking.
Molded Trays: Molded trays are made from molded pulp, which is a material made from recycled paper or cardboard. The pulp is molded into the shape of a tray, which can then be used to hold and transport beverages. Molded trays are used for carrying hot coffee and drinks.
Overall, the choice of beverage packaging depends on several factors, such as the type of product, the target market, and the company's branding goals. By choosing the right kind of packaging, beverage companies can ensure their products' safety and quality while reducing their impact on the environment.
Other Bottle Necker