Custom Quote Request Form
Makeup Packaging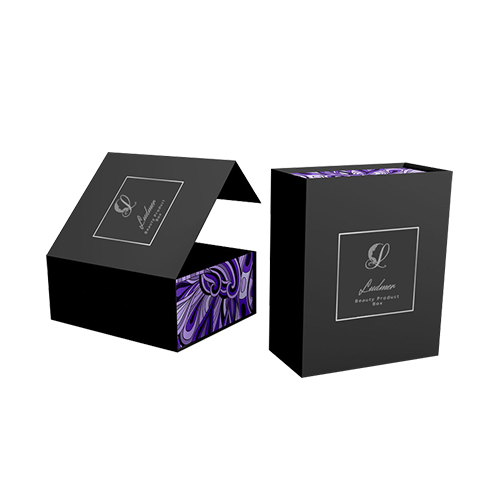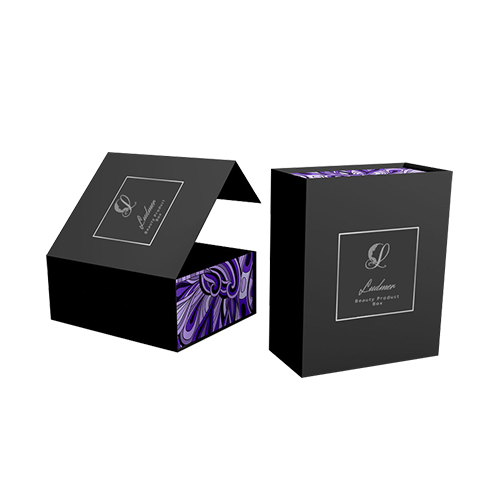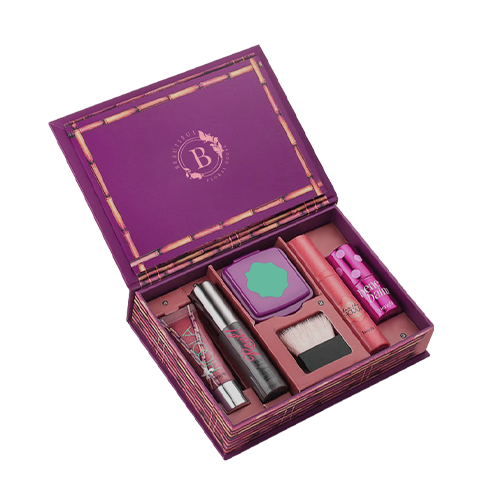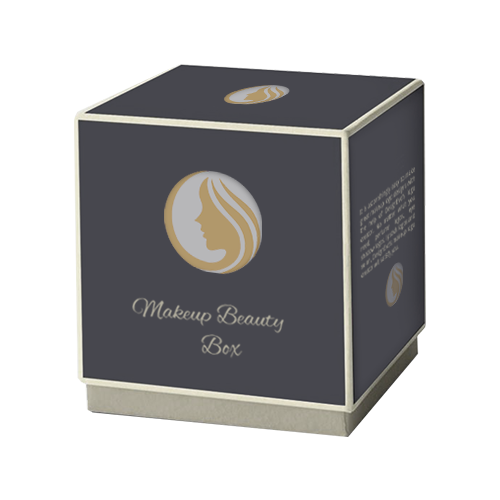 FAQ's
Specification
Description
Reviews
Q:
What is cardboard makeup packaging?
A:
Cardboard makeup packaging refers to retail-ready packaging made from cardboard materials that is used to package bottles and jars containing makeup and cosmetics-related products.
Q:
What types of makeup products can be packaged using cardboard-based packaging?
A:
Our custom-made boxes and other packaging products are ideal for a wide range of makeup products, including lipsticks, eyeshadows, foundations, hairsprays, lotions, serums, hair extension, mascaras, nail polishes, and more.
Q:
How important is makeup packaging in retail marketing?
A:
Makeup packaging is essential in marketing as it plays a crucial role in attracting and retaining customers. Retail packaging is often the first point of contact between the product and the customer. Well-designed cosmetics and makeup packaging can influence customers' purchasing decisions, build brand recognition and loyalty, differentiate products from competitors, and provide essential product information and protection.
Q:
What materials are used to manufacture product boxes for makeup packaging?
A:
Makeup-oriented product boxes can be crafted from a range of high-quality materials, including premium white cardstock, natural brown kraft paper, and rigid cardboard. These materials are available in various thickness options to ensure the makeup products are well-protected.
Q:
How can I make my makeup packaging stand out?
A:
Incorporate eye-catching designs, bold colors, and unique shapes when designing product boxes. Please consider using available special effects such as holographic or metallic finishes, UV prints, foil stamping and spot UV patterns. We carry an extensive range of laminate options such as linen, aqua, sandy matte, soft touch, and pattern laminate.
Q:
Can I customize the size and shape of the cosmetics product boxes?
A:
Yes, you can customize the size and shape of cardboard makeup boxes according to your specific needs and preferences. This allows you to create packaging that perfectly fits your makeup products and helps you stand out from your competitors. Customizing the size and shape of your boxes also helps ensure that your products are properly protected during shipping and storage.
Q:
What other accessories I can add to my makeup packaging?
A:
In addition to boxes, you can add inserts or trays to your packaging to keep the products secure and neatly organized. You can also include stickers or decals with matching colors and finishes to add branding, product information, or decorative elements to your products and packaging. Tying a ribbon or string around the packaging can add a decorative touch and give it a premium feel.
Q:
Can I order samples for my makeup packaging?
A:
Yes. Ordering samples of makeup packaging allows you to test the quality, design, and functionality before committing to a larger order. This helps ensure that the packaging meets your expectations and helps you make an informed decision. The sampling cost may vary depending on the size and complexity of the box design and any additional requirements.
Q:
Can I order luxury packaging for my makeup line?
A:
Yes, you can order rigid boxes for your makeup packaging. These boxes are a popular choice for luxury makeup and cosmetics products due to their sturdy and high-quality construction. Rigid boxes can be customized with various design options and are typically made from thicker and more durable materials than other packaging options.
Material
White: SBS (C1S), SBS (C2S), Uncoated Stock, Textured Stock
Metalized Card: Silver, Gold, Holographic
Brown: Natural Brown Kraft Card Stock
Rigid: Paper + Grey Board
Material Thickness
Cardstock Thickness: 12pt, 14pt, 18pt, Custom
Rigid Stock Thickness: 36pt, 48pt, Custom
Finishing Types
Lamination: Gloss, Matte, Sandy Matte, Soft Touch, Linen
Coating: Gloss AQ, Satin, Varnish, Spot UV, Flood UV
Features
Foil Stamping
Embossing
Debossing
Die Cutting
Metallic Inks
Custom Size
Other Options
Window Cutouts
Ribbons and Handles
Scoring and Gluing
Custom Perforation
Magnet Locks
Velcro
SKU#
CS-012
Bold and Beautiful: Innovative Makeup Packaging Solutions
Makeup products are cosmetic items that enhance or alter a person's appearance, primarily focusing on the face. Makeup packaging refers to the various containers, boxes, and materials used to package and present cosmetic products. These packaging products protect the cosmetic items and create an appealing visual presentation that attracts customers. Makeup packaging includes the primary container that holds the cosmetic product (e.g., lipstick tubes, eyeshadow palettes, foundation bottles) and any secondary packaging, such as boxes or sleeves that provide additional protection and branding.
The design, material, and functionality of makeup packaging are essential for several reasons, including:
Protection: Appropriate packaging helps to protect the cosmetic product from damage, contamination, and degradation caused by environmental factors such as light, heat, or moisture.
Functionality: The packaging must be user-friendly, allowing easy access, application, and storage of the makeup product. It may include features such as mirrors, applicators, or built-in brushes.
Brand Identity: Packaging plays a significant role in establishing and reinforcing a brand's identity. The design elements, such as colors, logos, typography, and overall aesthetics, create a memorable and recognizable brand image.
Attraction and Marketing: Eye-catching and visually appealing packaging can capture consumers' attention, encouraging them to explore the product further and potentially purchase it. Well-designed packaging can be a powerful marketing tool, influencing consumers' perceptions of the product's quality.
Sustainability: As environmental awareness grows, many makeup brands prioritize eco-friendly packaging solutions, such as recyclable or biodegradable materials. It not only reduces environmental impact but also appeals to eco-conscious consumers.
Information and Regulations: Makeup packaging often includes product labels or inserts that provide essential information about the product, such as ingredients, usage instructions, and any required regulatory information.
Various types of packaging are designed to cater to different makeup products, user preferences, and branding requirements. Some common types of makeup packaging include:
Tubes and Bottles: Tubes and Bottles are commonly used for mascaras, lip glosses, and liquid or cream-based products such as foundations, serums, and skincare items. They are typically made from plastic or glass and can feature a variety of pumps, droppers, or spray nozzles for easy application.
Jars and Pots: Jars and pots are used for products like face creams, powders, or gel-based cosmetics. They typically have a screw-on or snap-on lid and can be made from plastic, glass, or metal.
Palettes: Palettes are designed to hold multiple makeup products, such as eyeshadows, blushes, or lip colors. They can be made from materials like cardboard or plastic, often including a mirror or applicators.
Folding cartons: Folding cartons are flexible and easy to cut, fold, and print. They are made from cardboard and commonly used for secondary packaging to enclose primary containers, such as tubes, jars, or compacts, and provide additional protection and branding.
Rigid boxes: Rigid boxes are made from a thicker, more robust type of cardboard, offering enhanced durability and a premium feel. They are typically used for high-end or luxury makeup products and customized with various finishing options, such as foil stamping, embossing, or debossing.
Slide and Match Boxes: Slide-and-match boxes have a tray and a sliding sleeve, providing a unique unboxing experience. They are used for products like eyeshadow palettes, lipstick sets, or makeup kits and are customized with die-cut windows or inserts to showcase the product inside.
Pillow boxes: Pillow boxes have a unique, curved shape that resembles a pillow, making them ideal for small makeup products like lipsticks, lip glosses, or sample-sized items. They are customized with various printing options to create an attractive packaging solution.
Display boxes: Display boxes are designed to showcase multiple makeup products visually appealingly, often used in retail settings or for promotional purposes. They can be made from cardboard and customized to fit the displayed products' specific dimensions and design requirements.
Inserts or dividers: Packaging Inserts or dividers can be used in makeup packaging to organize and separate multiple products, such as palettes or makeup sets. They can be made from various materials like cardboard, foam, or plastic and can be customized to fit the specific dimensions and shapes of the products.
Sampler or trial-size packaging: Small, single-use cardboard containers or sachets can be used for product samples or trial-sized portions of makeup products. These can be customized with various printing options to create an attractive packaging solution that matches the full-sized product packaging.
The choice of packaging type should be driven by the specific product, brand identity, functionality, and user preference requirements. Packaging designs that cater to these requirements can become a significant driving force in driving sales and customer satisfaction.
Other Cosmetics Packaging