Custom Quote Request Form
Growler Tags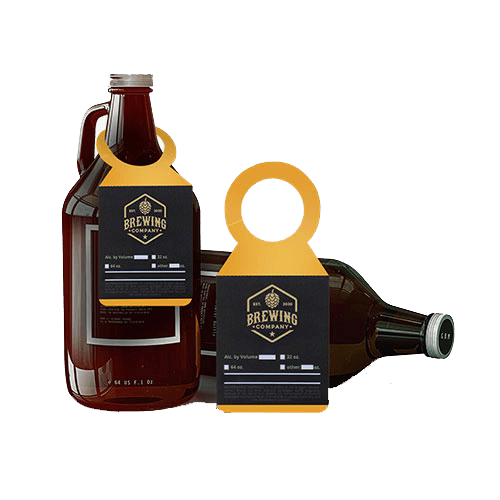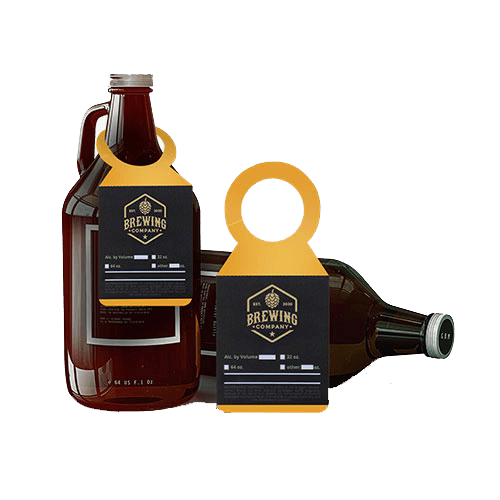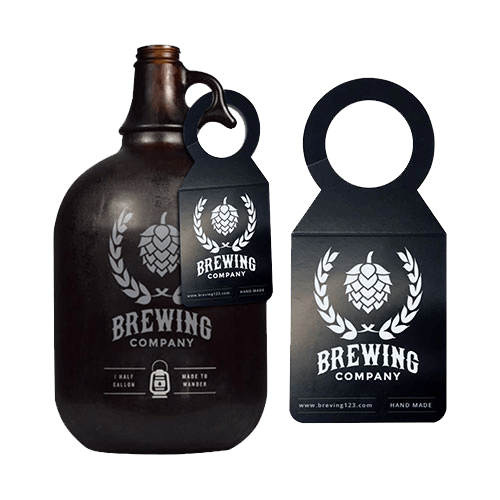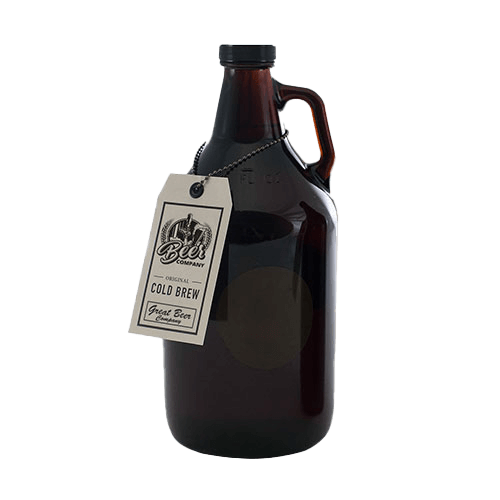 FAQ's
Specification
Description
Reviews
Q:
A:
Growler tags are unique way to label growlers. These tags help eliminate the unsightly stickers and hard to remove pins by attaching a custom tag to each growler that leaves your production facility. In addition to being more convenient, custom growler tags also allow you to expand your brand's visual recognition by displaying your logo, contact information, and upcoming events.
Q:
What type of stock is used for printing growler tags?
A:
Growler tags can be printed in both black and white or full color on your choice of 12pt, 14pt, 18pt or 24pt White coated or uncoated and recycled kraft stocks.
Q:
Is there a setup fee for printing custom growler tags?
A:
No. There are no setup fees, no plate fees, and no minimum order quantities. You will be quoted one simple price for your order. Please note that higher quantity orders do result in a lower per unit price.
Q:
Is my artwork checked for errors and technical before printing?
A:
Yes, we perform a free artwork check before an order is sent for printing. If we find any issues, we will either fix them or contact you. Please do note that this is only a technical check. Any spelling, grammatical, or positioning issues are not checked for during this process.
Material
White: SBS (C2S)
Brown: Natural Brown Kraft Card Stock
Stock Thickness: 12pt, 14pt , Custom
Size
Custom
Finishing Types
Lamination: Gloss, Matte, Sandy Matte, Soft Touch, Pattern
Coating: Gloss AQ, Satin, Varnish, Spot UV, Flood UV
Features
Foil Stamping
Embossing
Debossing
Custom Die-cut Shapes
Metallic Inks
Other Options
Punch Holes
Elastic or Regular Strings
Custom Perforation
Both Side Printing
SKU#
BN-006
Do's and Don'ts of Custom Printed Growler Tags
A growler tag is a small label or tag that is attached to a growler, which is a refillable glass jug commonly used for transporting draft beer from a brewery or pub. The tag typically contains information about the beer, such as the beer's name, the brewery, the alcohol content, and the date it was filled. Some growler tags may also include a barcode or QR code that can be scanned to access more information about the beer or the brewery.
Growler tags can also be used as a marketing tool to promote the beer and the brewery. Some bars and breweries have growler clubs where customers can collect tags or stamps on a card as they purchase different beers, and after a certain number of tags or stamps, they can earn a free beer or other rewards.
Here are some do's and don'ts of growler tags:
Do's:
Include the name of the beer and the brewery on the tag.
Include the alcohol content and the date the growler was filled.
Use high-quality materials for the tag to ensure it lasts as long as the growler.
Remember to include the expiration date or best-before date on the tag.
Remember any relevant information that might be important for the consumer, such as ingredients or allergen warnings.
Don'ts:
Don't use a tag that is too small or difficult to read.
Don't use a tag that is not durable and may fall off or become unreadable.
Don't use a tag that is not easily removable.
Here are some essential features that a growler tag should have:
Beer and Brewery Name: The tag should display the beer's name and the brewery it is from, so customers can quickly identify it.
Alcohol Content: The tag should indicate the alcohol content of the beer, which is vital for customers to know, especially if they plan to purchase multiple growlers.
Fill Date: The tag should include the date the growler was filled, so customers can know how fresh the beer is and plan to consume it accordingly.
Barcode or QR code: Including a barcode or QR code on the tag can allow customers to scan the code and access more information about the beer or the brewery, such as tasting notes or nutritional information.
Durability and Quality: The tag should be made of durable materials that can withstand the wear and tear of being handled and transported.
Consistency with Branding: The design and style of the tag should be consistent with the brewery's branding, so it can help promote the brewery's image and identity.
Expiration date or best before date: The tag should include the expiration date or best before the beer date, so the customer can plan to consume it before it goes bad.
Allergen or ingredient information: If any allergens or other components are used in the beer, it's essential to include that information on the tag, so customers with allergies can make an informed decision.
Other Bottle Necker