Custom Quote Request Form
Keg Collars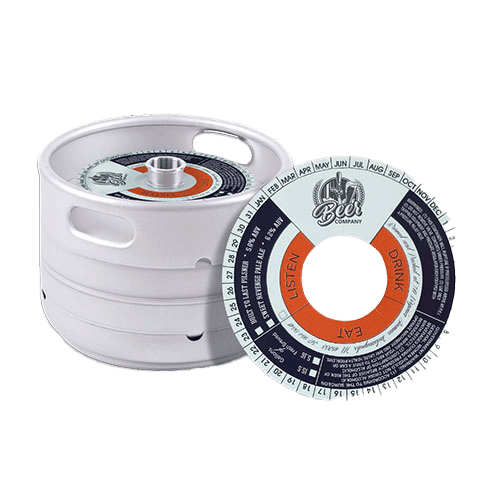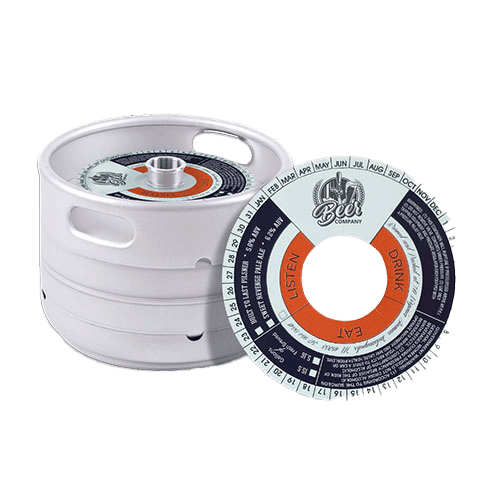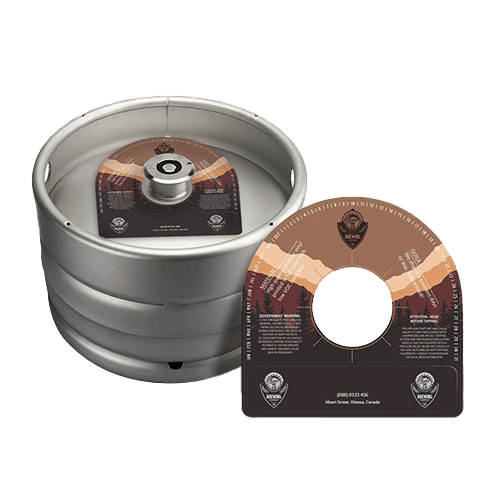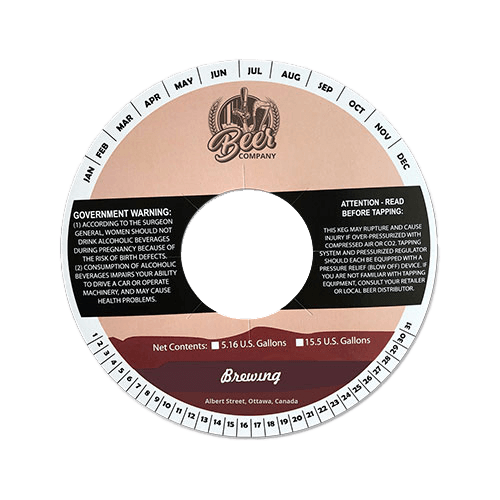 FAQ's
Specification
Description
Reviews
Q:
A:
A keg collar is a circular piece of material, typically made of cardboard, that is attached to the neck of a keg. It typically displays information about the beer or other beverage types contained in the keg. Typical information printed on a keg collar includes product name, information about the contents including flavor and ingredient details, serving temperature recommendation, and other branding content including logos and tag lines.
Q:
What is the purpose and use of a keg collar?
A:
Keg collars serve the primary purpose of providing essential information about the keg's contents to both consumers and sellers. In addition to their informative function, keg collars also serve as a useful marketing tool for breweries and beverage companies. By displaying branding, logos, and promotional messaging, keg collars can help draw attention to your brand, generate awareness, and create a lasting impression among customers.
Q:
What size dimensions and cardboard thickness options are commonly used for keg collars?
A:
Keg collar size specifications can vary depending on the keg's size and the manufacturer's specifications. However, a typical standard keg collar has a diameter of approximately 6.50 to 7.0 inches and a center cutout of 2.25 inches. Standard cardstock thickness options range from 12pt up to 24pt.
Q:
Do I need to remove the center portion of keg tags?
A:
Keg collars are typically pre-cut and ready for use with the center piece removed. However, we can also make the center portion perforated for easy removal and leave it attached to the keg collar to meet your specific requirements.
Q:
Is it possible to reuse the middle cutout card from a keg collar?
A:
The center cutout from a keg collar can be used as a growler tag by simply punching a hole in it. Upon request, we can also provide keg collars with pre-punched holes and strings, as well as adhesive backing for easy attachment to keg caps.
Q:
Do all kegs require a keg collar?
A:
In many jurisdictions, it is required by law to have a keg collar on every keg of beer or other adult beverages. This requirement is to ensure that consumers are aware of what they are consuming and to prevent the sale of unregulated or unsafe beverages.
Q:
Can keg collars be printed full color?
A:
Yes, keg collars can be printed in full color using various digital or offset printing techniques. Full color printing allows for a wide range of design options, including the use of images, logos, and branding elements to promote your product and attract customers' attention.
Q:
What custom finishes can I add to my keg collars?
A:
There are various custom finishes that can be added to keg collars to enhance their appearance and functionality. Common options include gloss or matte finishes, spot UV coating, foil stamping, Embossing or debossing, QR codes or barcodes, serial numbering, and perforation for easy tear-off or coupon use.
Q:
Can keg collars be manufactured in custom shapes?
A:
While keg collars are typically round, we can manufacture them in custom shapes to match your branding requirements. For instance, hexagonal shapes are often used for smaller kegs. Our packaging specialists can assist you in selecting any particular shape that suits your brand and packaging needs.
Q:
Can keg collars be made waterproof?
A:
Keg collars made of cardboard are not waterproof as they are constructed from paper. However, we can offer complimentary lamination for our keg collars in either gloss or matte finish. This extra lamination layer can provide some degree of water resistance. Alternatively, PVC keg tags are available upon request and are completely waterproof.
Material
White: SBS (C2S)
Brown: Natural Brown Kraft Card Stock
Stock Thickness: 12pt, 14pt , Custom
Size
6.5 x 6.5 inches
7 x 7 inches
Custom
Finishing Types
Lamination: Gloss, Matte, Sandy Matte, Soft Touch, Pattern
Coating: Gloss AQ, Satin, Varnish, Spot UV, Flood UV
Features
Foil Stamping
Embossing
Debossing
Custom Die-cut Shapes
Metallic Inks
Other Options
Punch Hole for Central Cut-out
Elastic or Regular Strings
Custom Perforation
Adhesive on Back
SKU#
BN-005
What are Keg Collars
A keg collar is a label that is placed around the neck of a keg of beer or another beverage. The collar typically contains information about the product, such as its name, brand, ingredients, alcohol content, and any relevant warnings or disclaimers. These tags are used for identification and marketing purposes, and they can be helpful for bars, restaurants, and other businesses that serve draft beer.
Here are some steps you can follow to design a keg collar:
Determine the purpose: Is it for branding or identification purposes? Will it include information about the beer or other product inside the keg?
Choose a size and shape: These tags are typically circular, but they can come in other shapes as well. Consider the size of the keg and the amount of information you want to include on the collar when deciding on a size.
Select materials: They can be made from a variety of materials, including paper, plastic, or vinyl. Consider the durability and water resistance of the materials as well as their appearance and cost.
Design the layout: Consider the elements you want to include in the design, such as the brand name, logo, product name, and any required information (such as alcohol content). Arrange these elements in a visually appealing and easy-to-read layout.
Choose colors and fonts: Use colors and fonts that are consistent with your brand identity and that are easy to read. Avoid using too many colors or fonts, as this can make the keg collar look cluttered and confusing.
Test the design: Before printing, it's a good idea to test the design by creating a mock-up or proof. This will allow you to see how the printed product will look in real life and make any necessary changes.
Other Bottle Necker