Custom Quote Request Form
Hair Extension Packaging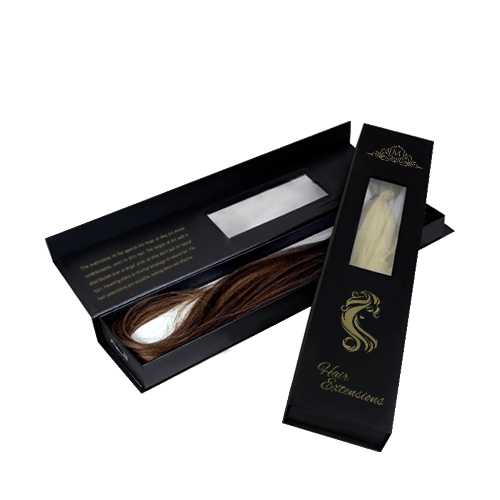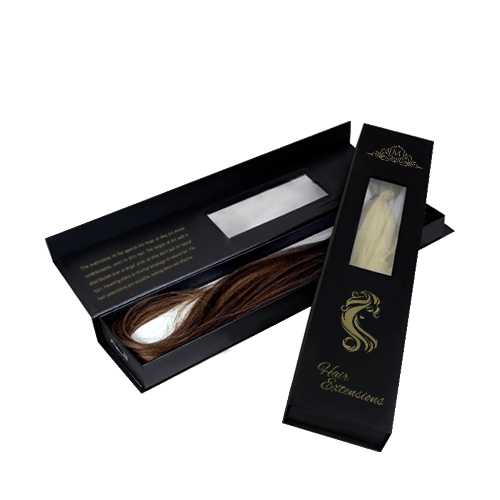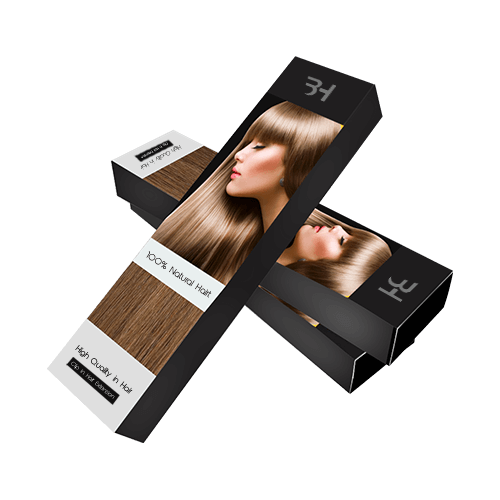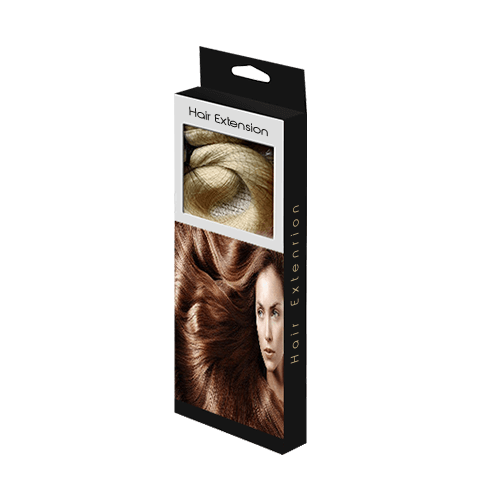 FAQ's
Specification
Description
Reviews
Q:
What types of hair extension boxes are available?
A:
We offer a wide range of custom printed hair extension packaging boxes that can be used for retail purposes. These boxes are typically manufactured using cardboard or rigid cardstock. In addition, shipping cartons designed specifically for shipping hair products are also available.
Q:
What affects the pricing of custom hair extension boxes?
A:
The price for custom hair extension packaging is primarily driven by the size of the desired boxes, required stock thickness, the number of printed colors, and the quantity required.
Q:
What are luxury hair extension boxes?
A:
Luxury hair extension boxes are produced using a high-quality rigid stock. These rigid setup hair extension boxes can be customized with window cutouts and custom finishes. In addition, custom sized compartments can be added in order to house user manuals and other accessories.
Material
White: SBS (C1S), SBS (C2S), Uncoated Stock, Textured Stock
Metalized Card: Silver, Gold, Holographic
Brown: Natural Brown Kraft Card Stock
Shipping Boxes: White or Brown Corrugated Stock or Forte
Rigid: Paper + Grey Board
Material Thickness
Cardstock Thickness: 12pt, 14pt, 18pt, Custom
Corrugated Stock: 3-ply corrugated
Rigid Stock Thickness: 36pt, 48pt, Custom
Finishing Types
Lamination: Gloss, Matte, Sandy Matte, Soft Touch, Linen
Coating: Gloss AQ, Satin, Varnish, Spot UV, Flood UV
Features
Foil Stamping
Embossing
Debossing
Die Cutting
Metallic Inks
Custom Size
Other Options
Window Cutouts
Ribbons and Handles
Scoring and Gluing
Custom Perforation
Magnet Locks
Velcro
SKU#
CS-006
Innovative Hair Extension Packaging Features: A Look at the Latest Trends
Hair extensions are artificial hairpieces attached to a person's natural hair to add length, volume, or color. Hair extension packaging refers to various packaging materials and designs used to store, protect, and present hair extensions for sale or distribution. Hair extension packaging and boxes significantly attract customers, protect the product, and create a memorable unboxing experience. Therefore, brands must remain up-to-date with the latest packaging trends to stay competitive in the ever-evolving hair extension.
Some of the most recent trends in hair extension packaging that can elevate your brand and appeal to modern consumers include:
Sustainable and Eco-friendly Packaging: As environmental concerns grow, brands increasingly use sustainable materials and eco-friendly production methods for their boxes. Recycled cardboard, biodegradable plastics, and soy-based inks are some of the popular choices that reduce environmental impact and appeal to eco-conscious customers.
Textures and Finishes: Adding textures and finishes to packaging can enhance the overall look and feel of the packaging, making it more memorable and visually appealing. Techniques like embossing, debossing, foil stamping, and soft-touch laminates are being used to add depth and interest to box designs.
Custom Shapes and Die-cut Windows: Innovative custom shapes and die-cut windows in hair extension boxes can create a unique and engaging presentation. Window boxes allow customers to preview the product.
Bold Patterns and Graphics: Eye-catching patterns and graphics are being used to create a strong visual impact on hair extension boxes. Geometric patterns, abstract designs, and illustrative artwork can add personality to the packaging and help establish a memorable brand identity.
Personalization and Customization: Offering custom packaging creates a sense of exclusivity and cater to individual customer preferences. It includes options for custom colors, patterns, or adding the customer's name or initials to the packaging.
Hair extension packaging comes in various types to cater to different market segments, customer preferences, and product protection requirements. Some common types of hair extension boxes and packaging include the following:
Plastic Bags or Sleeves: These lightweight and transparent packaging options are often used for individual hair extensions. They allow customers to see the product inside and are cost-effective, making them a famous packaging choice for many brands.
Cardboard Boxes: Cardboard boxes offer more protection than plastic bags and can be customized in various shapes, sizes, and designs. Many cardboard boxes have a window cutout to showcase the hair extensions inside, making them attractive for display and protection.
Silk or Satin Bags: These premium packaging options give a luxurious feel to the product and are often used for higher-end hair extensions. They protect the hair from friction and damage while providing an elegant presentation.
Custom-Shaped Packaging: Brands may create unique shaped packaging designs to differentiate themselves in the market and maintain a strong brand identity. It enhances a product's presentation, reinforces brand identity, and creates a memorable unboxing experience.
Tubes and Cylinders: These packaging options are typically made from cardboard or plastic and provide a unique and eye-catching way to present hair extensions. Tubes and cylinders can be personalized with different sizes, colors, and designs to match the brand's aesthetic.
Magnetic Closure Boxes: Magnetic closure boxes are an increasingly popular packaging option for hair extensions, offering a stylish, secure, and user-friendly solution. These boxes are generally made from sturdy cardboard or other rigid materials and feature built-in magnets that securely hold the box closed, ensuring the hair extensions remain protected and in place.
Counter Display Boxes: Counter display boxes can be used to showcase hair extensions at the point of sale, often featuring multiple compartments or slots to hold individual bundles. Display boxes are made from various materials, including cardboard, corrugated board and acrylic.
Other Cosmetics Packaging