Custom Quote Request Form
Pizza Packaging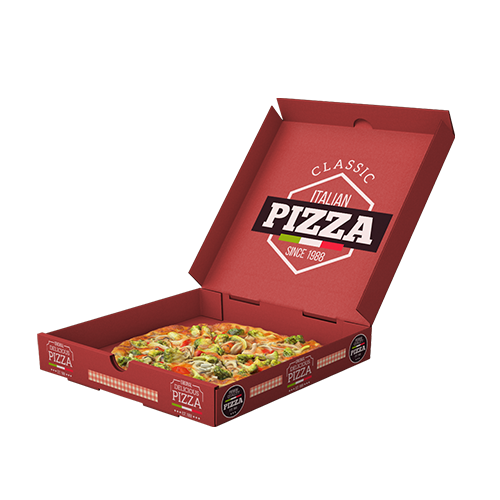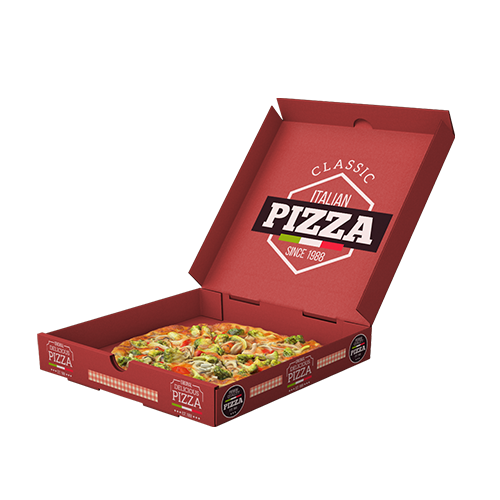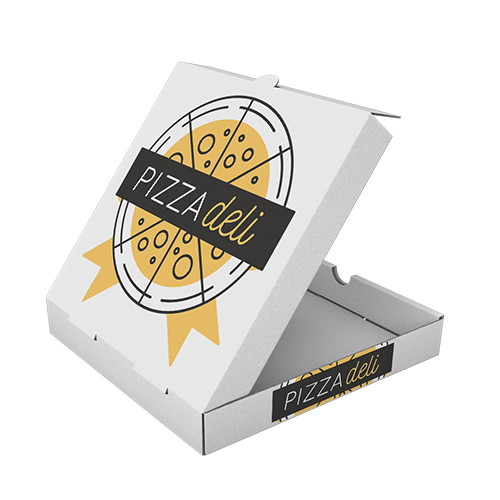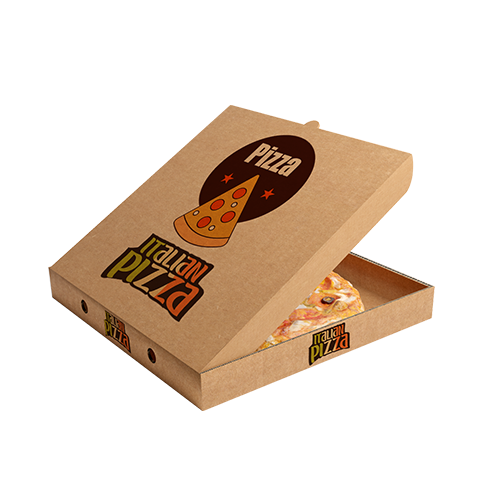 Specification
Description
Reviews
Material
Shipping Boxes: White or Brown Corrugated Stock or Forte
Material Thickness
Corrugated Stock: 3-ply corrugated
Finishing Types
Lamination: Gloss, Matte, Sandy Matte, Soft Touch, Linen
Coating: Gloss AQ, Satin, Varnish, Spot UV, Flood UV
Features
Foil Stamping
Die Cutting
Metallic Inks
Custom Size
Other Options
Window Cutouts
Scoring
SKU#
FP-017
Finding Your Perfect Match: Exploring Ideal Pizza Packaging Types for Your Business
In the competitive world of pizza businesses, delivering a great product is not enough. Packaging plays a crucial role in customer satisfaction and brand differentiation. A well-designed pizza box must balance aesthetics and functionality to ensure the pizza reaches the customer in the best possible condition while creating a memorable experience.
Critical aspects of pizza packaging that harmoniously blend visual appeal are:
Branding: A well-designed pizza box is a canvas for food-oriented businesses to showcase their logo, colour schemes, and other branding elements. It allows the pizza brand to create a strong visual identity that customers can easily recognize and remember.
Customization: Personalizing packaging with unique designs, patterns, or illustrations can differentiate a brand from its competitors. Custom packaging can also cater to local tastes or seasonal promotions, making the packaging more relevant and engaging to the target audience.
Typography: Creative and legible typography on pizza boxes conveys essential information like ingredients, allergens, or promotional offers and adds to the overall aesthetics. An attractive font can set the brand's tone and contribute to its identity.
Essential elements of pizza packaging that effortlessly merge practicality are:
Material Quality: Pizza boxes made from high-quality corrugated cardboard help maintain the pizza's temperature, ensuring it remains warm and fresh during transit. The sturdy corrugated boxes protect the pizza from being crushed or damaged, preserving its shape and appearance.
Ventilation: Proper ventilation is essential to prevent condensation and the resulting soggy crust. Strategically placed holes or vents in the pizza box release steam, preserving the crust's crispiness.
Grease Resistance: A grease-resistant lining inside the pizza box prevents the oil from seeping through the cardboard. It keeps the pizza intact and maintains the box's structural integrity.
Size and Shape: Offering different pizza box sizes and shapes to accommodate various pizza sizes and styles is essential for customer convenience. Unique designs, like triangular boxes for single slices or stackable boxes, can help improve the customer experience and make the packaging more functional.
Different pizza packaging types that can be custom-produced include:
Corrugated Cardboard Boxes: Corrugated boxes are the most common and widely used pizza packaging type. They are cost-effective, sturdy, and provide excellent insulation. These boxes come in various sizes and are easily customised with your brand's logo, colours, and design elements. Ventilation holes are added to allow steam to escape, ensuring the pizza remains crispy.
Pizza Slice Boxes or Trays: For businesses that sell pizza by the slice, slice boxes or cardboard trays are a great option. These triangular-shaped, single-serving boxes or trays make it convenient for customers to carry and consume their pizza on the go. Customised with your branding, pizza slice boxes or trays also contribute to a cohesive brand experience.
Biodegradable or Compostable Boxes: Eco-friendly packaging made from biodegradable or compostable materials is becoming increasingly popular due to growing environmental concerns. These boxes help reduce your business's carbon footprint while appealing to consumers. They can also be customised with your branding, highlighting your commitment to sustainability.
Aluminum Foil Containers: Aluminum foil containers are suitable for businesses focusing on the delivery and takeout market. These containers can retain heat well and keep the pizza fresh for longer. These boxes can be featured with your brand's logo and essential information.
Achieving the ideal harmony between the visual appeal and practicality of pizza packaging guarantees that the pizza appears and tastes delightful while being delivered to the customer in impeccable condition. By carefully considering your business's specific needs and exploring various packaging options, you can find the ideal match that meets your functional requirements and effectively showcases your unique brand identity.
Other Food Packaging