Custom Quote Request Form
Soap Packaging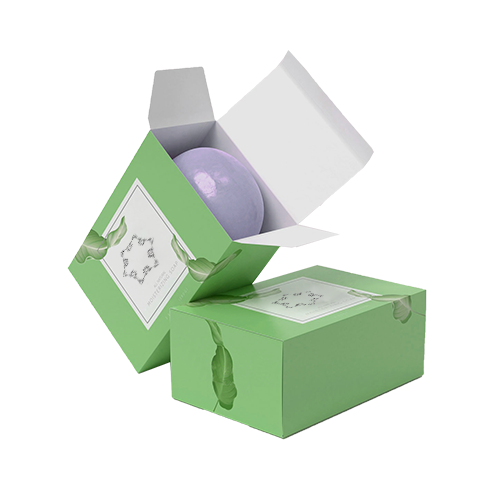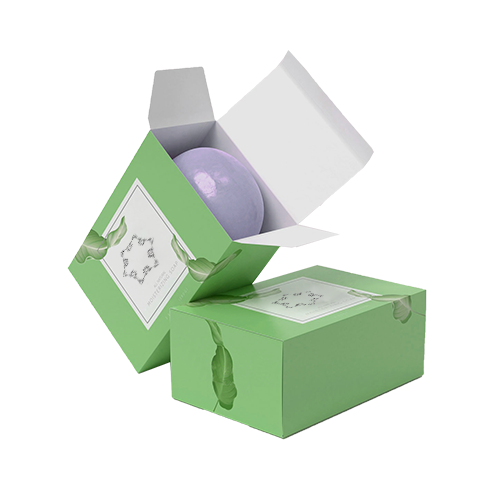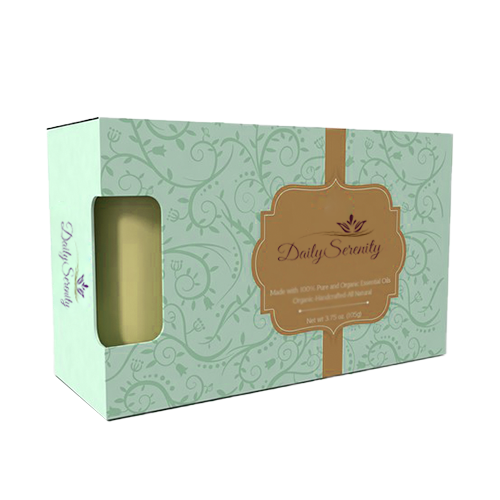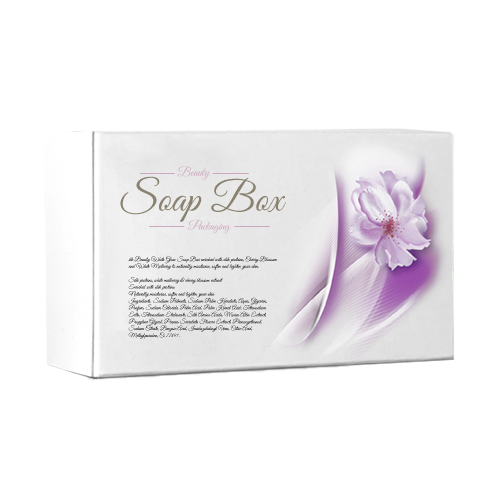 FAQ's
Specifications
Description
Reviews
Q:
What types of branded soap packaging options are available?
A:
Soap packaging typically includes custom printed tuck boxes, sleeves, and cardboard drawer boxes. These types of boxes can be produced in any custom shape and size. In addition, logo embossing, foil stamping, and a wide variety of other finishing options are also available.
Q:
What stocks options are available for producing custom soap packaging?
A:
Soap packaging is generally manufactured using coated cardstocks in various thicknesses. In addition, recyclable textured and kraft cardstocks can also be utilized to meet your specific requirements.
Q:
What is the purpose of adding a window cut-out on soap packaging?
A:
It may be a good idea to incorporate a window cut-out to your soap packaging design in order to allow customers to see and smell the enclosed soap products without damaging the packaging. The window cut-out can be placed on any box panel and can be customised to any shape and size to fit your specific requirements.
Material
White: SBS (C1S), SBS (C2S), Uncoated Stock, Textured Stock
Brown: Natural Brown Kraft Card Stock
White Front Coloured Back: CCNB (Grey Back), CCKB (Kraft Back)
Material Thickness
Cardstock Thickness: 300 gsm, 350 gsm, 450 gsm, 600 gsm, Custom
Finishing Types
Lamination: Gloss, Matte, Sandy Matte, Soft Touch, Linen
Coating: Gloss AQ, Satin, Varnish, Spot UV, Flood UV
Features
Foil Stamping
Embossing
Debossing
Die Cutting
Metallic Inks
Custom Size
Other Options
Window Cutouts
Scoring and Gluing
Custom Perforation
SKU#
Custom Printed Soap Packaging
Soaps being one of the most commonly used products around the world are found in great quantities at stores globally. Due to exceedingly high competition their packaging needs to be of exceptional quality and should showcase uniqueness. In this regard, Packaging Blue can help you with soap packaging that guarantees a boost in appearance as well as sales of your soap products.
You no longer need to worry about the kind of packaging you choose for your soap products. All you need is to get in touch with one of our representatives through a phone call or live chat support and he/she will share a catalog of soap packaging designs with you to choose from. Moreover, you can also share your ideas/artwork with our team; they are always ready to immediately transform them into print-ready format.
A custom-made soapbox would definitely have a better impact on your customers. They would appreciate the attention given to colour, material, and design-related details. Soap packaging business is fast evolving and the only reason is the ever-growing demand of the soap manufacturers. If one wants to understand the gravity of this competition, they should go to the nearest mall and have a look at the number, quality and type of soap boxes on display. You might wonder and think about the reasons of this unnerving competition.
The answer is very simple; your product packaging reveals the true nature of your product and this is why there are so many different types of soap boxes; from display boxes to medicated boxes to sliding boxes and beyond, there are so many different designs to choose from. This is the biggest reason for the confusion of soap manufacturers. However, fortunately, PackagingBlue.Com has got this all covered for you. With our wide array of soapbox collection and unmatched expertise, we can give you the exact kind of soapbox that you have in your mind.
We make soap boxes keeping in mind the quality standards that are prevalent in the business and that we have personally devised to win the praise of our clients. Our soap packaging set-up is in-house and our state of the art printing facility works 24/7 to manage orders coming from all over the USA. We pay attention to the aesthetic details of the soapboxes as well, and we make sure that not only our soap boxes protect and preserve the product, but they also appeal to the aesthetic sense of our clients and their potential customers. A much important consideration in this respect is branding; we leave no stone unturned in making sure that the soap boxes that you get from us, flawlessly represent your business.
To accomplish such a big promise, PackagingBlue.Com has hired an entire team of packaging experts, packaging engineers, colour and graphics experts and dedicated sales and branding experts. They make sure that the soap boxes they print become the bearers of good news for your customers. From material and design-related aspects to logo and important information, we do not miss anything.
Our experts are aware of the thing that our clients have nothing else other than the soapboxes to reveal information like soap name, manufacturer name, company logo, barcode, important health and safety instructions and ingredients etc. So we make sure to take care of even the slightest details.
Our supreme printing techniques, branding sense, styles, themes, the juxtaposition of colours and graphics and above all, unmatched customer support makes us stand out from the crowd. Our soap boxes are available at very affordable rates.
When it comes to customizations, we are all ears. Tell us how you want your soap boxes to appear and we will make it possible for you. It is your product, and you have every right to not compromise over quality and get exactly what you want. Tell us the required size, colour, material, graphics, and information to be mentioned on your soap boxes, and see how our soap packaging experts make it possible for you.
The value of artistically printed soap boxes of high-quality material goes without saying. It is all about sales appeal. Think of your soap resting on a shelf in a big mall, where there are so many other soaps from so many other companies, in so many alluring soapboxes. Now tell us, if you think that your soap may win this beauty contest, without second to none soap packaging material, soapbox colour, structure and design? The answer is obviously and always no.
With soap boxes designed and manufactured by PackagingBlue.Com, your soaps would have better than the best chance of appealing the average Joe who comes to buy soap, and thus these soapboxes will take your sales to new heights. PackagingBlue works 24/7 to chase and deliver the orders. We are more than capable of delivering your order fast, and free of delivery charges. Our research and analysis team keeps collecting specimen from the market and examining them, so that we might be aware of the industry standards, challenges and innovations. This enables us to manufacture different types of soap boxes for different types of soaps e.g. beauty, medicated, perfumed, laundry, cleaning, kitchen and transparent etc. It is not all about creating appealing soapboxes, but mainly about knowing as to which type of container is more suitable for a certain type of soap.
Flexibility is the key to our success in this business. We use flexible materials which can easily be molded into any type of soap boxes that our customers prefer. Apart from custom-made soap boxes, we also have ready-made templates. If you think that you urgently need some high quality soap-boxes, without wasting much of your time, try our ready to fit templates. These templates are just as appealing and compelling as our custom made soap boxes. Our design team finalized these soap packaging templates after much consideration, and we have repeat customers who periodically get soapboxes based on these templates.
However, our design team is at your disposal. Go wild and free with your imagination and let us know as to what you want your soap boxes to look like. Tell us what you want from our wide range of design options: engraving, embossing, CMYK or Pantone colours, any fancy opening or locking mechanism, you name it, we do it.We can proudly tell you that a lot of soap manufacturers in the USA have already got diverse soap boxes designs from us e.g. bottom lock boxes, straight tuck boxes and reverse tuck boxes etc.
Still got some questions in mind? No problem, if you want to learn more about soap packaging, please contact our 24/7 customer support team now.
Other Cosmetics Packaging