Custom Quote Request Form
Pie Packaging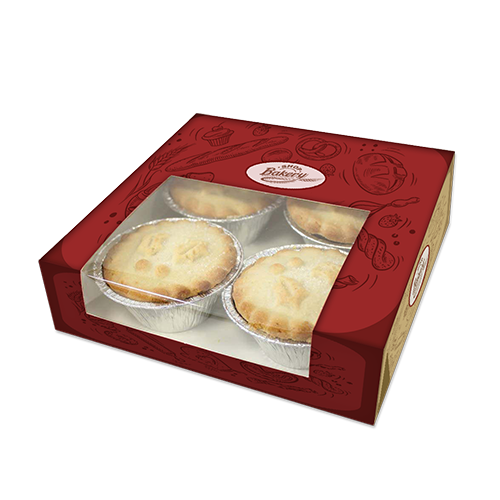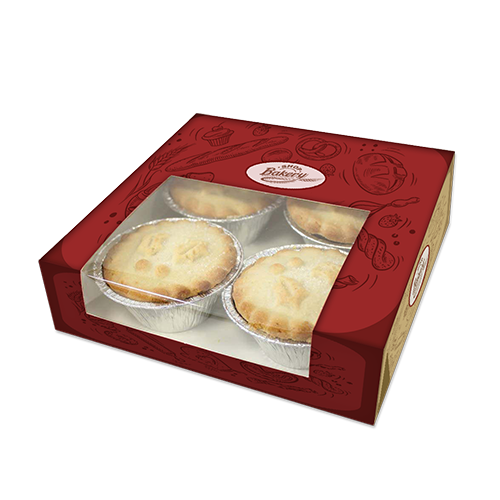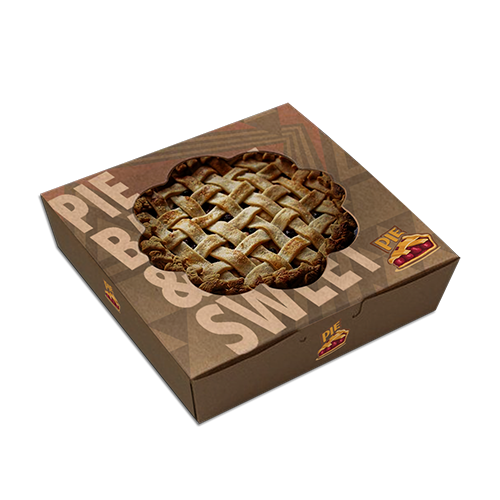 Specification
Description
Reviews
Material
White: SBS (C1S), SBS (C2S), Uncoated Stock, Textured Stock
Brown: Natural Brown Kraft Card Stock
White Front Coloured Back: CCNB (Grey Back), CCKB (Kraft Back)
Material Thickness
Cardstock Thickness: 300 gsm, 350 gsm, 450 gsm, Custom
Finishing Types
Lamination: Gloss, Matte, Sandy Matte, Soft Touch, Linen
Coating: Gloss AQ, Satin, Varnish, Spot UV, Flood UV
Features
Foil Stamping
Embossing
Debossing
Die Cutting
Metallic Inks
Custom Size
Other Options
Window Cutouts
Scoring and Gluing
SKU#
FP-016
Breaking the Mold: Innovative Pie Packaging Ideas for Differentiating Your Brand
Custom pie packaging offers a unique and personal touch to your sweet treats, transforming them into memorable gifts for special occasions, holidays, and corporate events. Customising packaging allows your business to elevate its products and create a more engaging and thoughtful customer experience.  In addition to having custom-branded packaging for your bakery products, you can also help stand your business stand apart by offering your customers the opportunity to create personalised packaging for bulk orders.  Benefits of offering customisable pie packaging include:
Personalization: Customisable packaginglets your customers add a personal touch to the product. It can include custom messages, names, or images, making each pie feel unique and tailored to the recipient.
Gifting Appeal: Personalised packaging enhances the gifting experience, creating a sense of thoughtfulness and care that recipients will appreciate. Custom packaging can make your pies stand out as the perfect gift for birthdays, anniversaries, holidays, and corporate events.
Seasonal Themes: Customised packaging can be adapted to different seasons or holidays, creating limited edition designs that cater to specific occasions. It can help increase sales during peak times and generate excitement around your products.
Brand Differentiation: Offering customisable pie packaging can set your business apart from competitors, providing a unique selling point that attracts customers and encourages brand loyalty.
Corporate Gifting: Custom gift box packagingused for corporate gifting, allows businesses to incorporate their branding, logos, or messages into the design. It helps strengthen business relationships and leave a lasting impression on clients and partners.
Cardboard-based pie packaging is a versatile, eco-friendly, cost-effective solution for protecting and presenting pies. Popular cardboard pie packaging styles to consider for your bakery include:
Windowed Pie Boxes: These boxes feature a transparent window, usually made of clear plastic, which allows customers to see the pie inside without opening the packaging. Window boxes create visual appeal and keep the pie protected and fresh.
Kraft Pie Boxes: Made from natural kraft paper, these pie boxes have a rustic, earthy appearance that appeals to eco-conscious customers. Kraft boxes can be printed with your branding or left plain for a minimalist look.
Gable Boxes: Gable boxes have a unique shaped top, creating a distinctive and visually appealing design element. They are typically made from sturdy cardboard and can be printed with your branding or designs.
Two-Piece Pie Boxes: Two-piece boxes have a separate base and lid, providing an elegant and professional presentation. The lid can be removed quickly to display the pie, while the base offers support and protection.
Corrugated Pie Boxes: Corrugated boxes provide extra strength and insulation, making them suitable for transporting larger or heavier pies. The fluted design also adds a unique texture to the packaging.
Bakery Clamshells: Clamshell-style pie boxes are made from a single piece of plastic that folds in half, creating a secure and easy-to-open enclosure. This design is ideal for individual pie slices or mini pies.
Pie Slice Boxes: Explicitly designed to hold individual pie slices, these triangular-shaped boxes are perfect for customers who want to enjoy a single serving on the go.
By exploring various cardboard pie packaging styles, you can find the perfect solution to showcase your pies, protect them during transportation, and create a memorable experience for your customers.
Other Food Packaging