Custom Quote Request Form
Pillow Box Style Packaging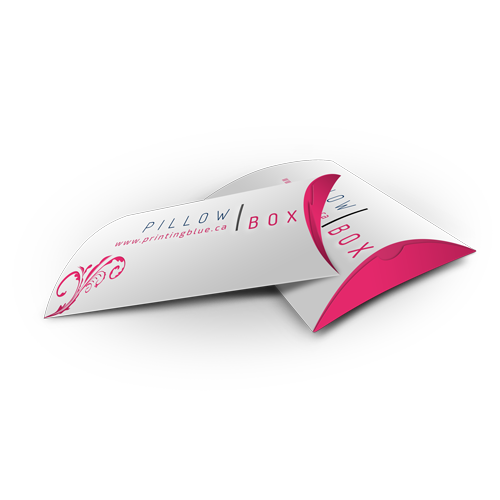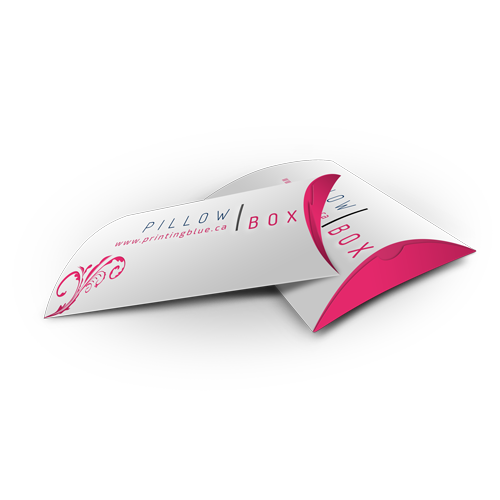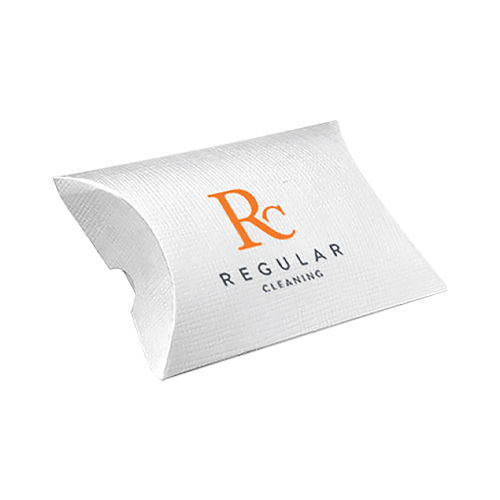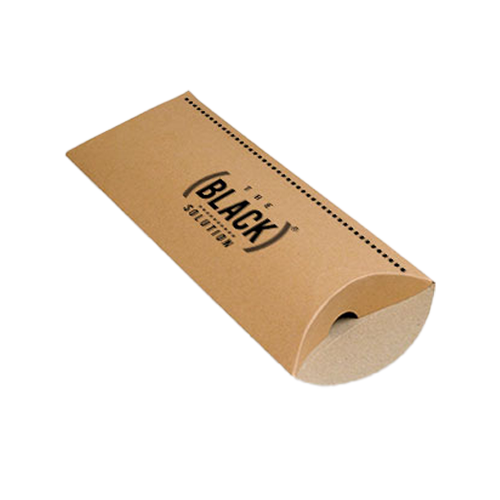 FAQ's
Specifications
Description
Reviews
Q:
What does the term 'pillow box packaging' mean?
A:
Pillow boxes are a type of specialty packaging that is ideal for smaller items such as gift cards, candy, and jewelry. These boxes resemble a miniature cardboard pillow and thus are commonly referred to as pillow boxes.
Q:
Can you manufacture custom pillow boxes in any size?
A:
We can design and print pillow box boxes to your specific size requirements. Our team can help you assess your options if you have any questions.
Q:
Are see through windows an option?
A:
Although the shape of pillow boxes is different than conventional boxes, it is still possible to add windows cut-outs of different shapes and sizes to your boxes.
Q:
Can you apply foil stamping on branded pillow boxes?
A:
Yes, we can apply foil stamping on our entire range of stocks that are typically used for pillow packaging. In addition to foil stamping, we can also apply a spot UV coating and soft touch lamination. Our support team can guide you through these options.
Material
White: SBS (C1S), SBS (C2S), Uncoated Stock, Textured Stock
Metalized Card: Silver, Gold, Holographic
Brown: Natural Brown Kraft Card Stock
White Front Colored Back: CCNB (Grey Back), CCKB (Kraft Back)
Material Thickness
Cardstock Thickness: 12pt, 14pt, 18pt, Custom
Finishing Types
Lamination: Gloss, Matte, Sandy Matte, Soft Touch, Linen
Coating: Gloss AQ, Satin, Varnish, Spot UV, Flood UV
Features
Foil Stamping
Embossing
Debossing
Die Cutting
Metallic Inks
Custom Size
Other Options
Window Cutouts
Scoring and Gluing
SKU#
RP-019
Custom Pillow Boxes: A Perfect Blend of Functionality and Aesthetics
Pillow boxes, named after their pillow-like shape, are a popular packaging type and are widely used for various purposes, such as gift wrapping, packaging party favors, and primary product packaging. Pillow boxes are typically made from sturdy materials such as cardboard or paperboard and have a foldable design with curved edges that give them their unique pillow-like appearance. These boxes are often used for packaging small items such as jewelry, cosmetics, gifts, or promotional products. Pillow boxes can be customized with different colors, patterns, and branding elements to suit specific purposes and enhance their visual appeal. In addition to their unique appearance, pillow boxes are also very to assemble and use.
Types of Pillow Boxes
Various types of pillow boxes are available, each with its own unique features and advantages. The most commonly used pillow boxes types are:
Window Pillow Boxes: These boxes feature a transparent window on one or more sides, allowing a view of the product inside. Window boxes are often used when you want to showcase the contents or display them in a visually appealing way. Window pillow boxes are ideal for use in retail packaging, especially for cosmetics, jewelry, and confectionery.
Pillow Boxes with Handles: Some pillow-style boxes are designed with an attached handle, typically a cut out from the box itself or an attached cord made using a thin ribbon, twine, or leather. The handles add convenience and ease of carrying, making these boxes suitable for packaging gifts, party favors, or retail products that require portability.
Hanging Pillow Box: A pillow-style box with a Euro hook can be hung on retail displays using hooks and thus offers an easy product display option.
Kraft Boxes: Kraft pillow boxes are made from eco-friendly and recyclable Kraft paper. Kraft boxes have a natural and rustic look, making them a popular choice for environmentally conscious brands or products with an organic or natural appeal.
Plastic Pillow Boxes: A plastic pillow box is a packaging option made from transparent or semi-transparent plastic materials. These boxes provide several advantages, including transparency that makes the contents visible, durability to protect fragile items, and water resistance to safeguard against moisture. As a result, they are ideal for showcasing and protecting items such as cosmetics, bath products, and food items.
Box Sleeves: A Product Sleeve is an additional component that slides over a pillow-style box, providing an extra layer of protection and decoration. Sleeves can be printed, textured, or embellished with various finishes to enhance overall packaging aesthetics.
Pillow box packaging protects the contents and creates an appealing unboxing experience. When utilizing pillow boxes for your products, it is essential to consider the following:
Consider the size and dimensions of your products to ensure that they fit comfortably inside the box.
Ensure that the packaging is sturdy and made from high-quality materials in order to protect the contents adequately.
Use proper adhesive or closure mechanisms to seal the box and prevent accidental openings.
Consider sustainability by using eco-friendly materials or opting for recyclable packaging options.
Other Custom Packaging