Custom Quote Request Form
Donut Packaging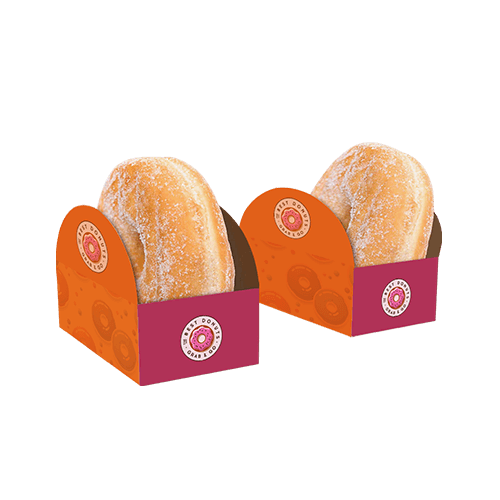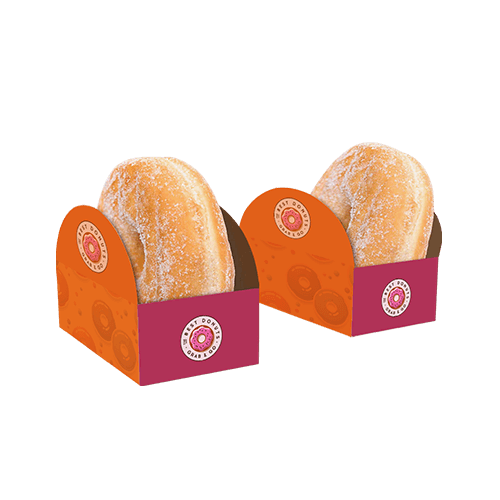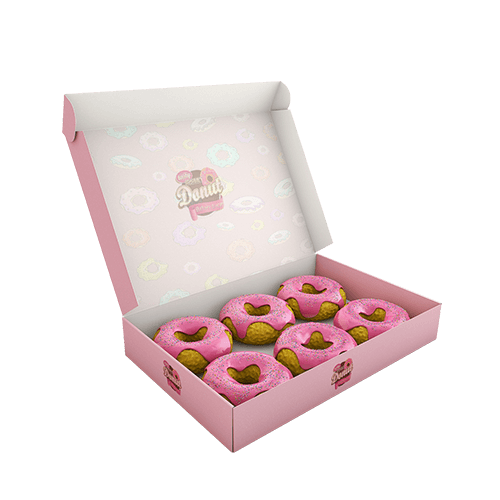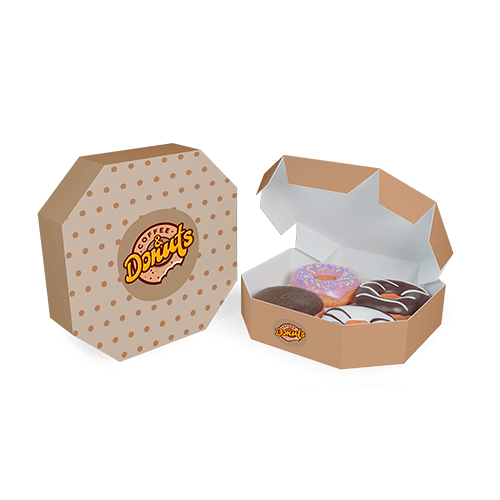 Specification
Description
Reviews
Material
White: SBS (C1S), SBS (C2S), Uncoated Stock, Textured Stock
White Front Colored Back: CCNB (Grey Back), CCKB (Kraft Back)
Material Thickness
Cardstock Thickness: 12pt, 14pt, 18pt, Custom
Finishing Types
Lamination: Gloss, Matte, Sandy Matte, Soft Touch, Linen
Coating: Gloss AQ, Satin, Varnish, Spot UV, Flood UV
Features
Foil Stamping
Embossing
Debossing
Die Cutting
Metallic Inks
Custom Size
Other Options
Window Cutouts
Scoring and Gluing
SKU#
FP-011
Custom Printed Donut Packaging, Holders & Boxes
People treasure their donuts just as much as they love tea; if it is the time for evening tea, donuts are on top of the snacks list. Such is the fame and following of donuts throughout the world. Irrespective of age, gender and race, people love donuts and this love is what keeps moving the bakeries and keep them producing scrumptious donuts day and night. This massive demand for tasty donuts is what necessitates the massive production of custom donut boxes.
In a world where everyone loves donuts and every bakery makes them, it is hard to make some difference unless you get compelling and highly customized donut boxes for your "tastalicious" products. These custom-made donut boxes are not only rich with sales appeal, but they are also better at preserving the perishable donuts, as compared to the readymade boxes which are just so-so.
Why Get Custom Donut Boxes?
The custom donut boxes are always better in comparison with readymade boxes, be it the sales appeal that you consider the most important factor or the preservation of the products. There is a reason why the packaging of all big-shot donut products is not the same be it the sales appeal factor or the preservation of the perishable donuts.
What is in a Personalized Donut Box?
There is a reason why most of the bakeries prefer custom made donut boxes to the readymade ones. The personalized donut boxes add to the overall branding appeal and pitch of a donut; they are not just boxes, they are the devices of persuasion. Have a look at how you can make difference to the custom donut boxes, with help of these customizations:
Material – Whenever it comes to making a choice between readymade boxes or custom boxes, materials emerges as the first consideration. The materials that you can choose from are corrugated fiberboard, cardboard, Kraft and Bux board etc.
Colors – In case of readymade donut boxes, one has to go with the color choice made by the manufacturer of donut boxes; however, in case of custom designed donut boxes, the color choices are left to the customer. You can choose from two or more color models, such as CMYK and Pantone.
Shape & Structure – The shape or structure of readymade donut boxes is not decided by the buyer, but by the manufacturer of such boxes. Yet, when you go for custom designed donut boxes, you get to choose from a variety of shape and structure-related options such as 123 bottom, auto-bottom, straight tuck-end, and reverse-tuck end and display lid etc.
Design & Finish – All choices apart, design and finishing of your custom boxes are actually what gives the final touch to them and make them stand out of the crowd. Ever had a look at the items on display in a big mall and picked one instantaneously? Well, it was less because of the company name and more because the finish and design of the packaging was so striking and compelling, that you felt helpless and see no resort but buying the product.
In case of customized donut boxes, you get the same effect and you get to cast the same spell on target customers. You can choose from various effects such as matte or gloss finish, gold or silver foil, die-cut window pane or PVC sheet, debossing or raised ink, perforation or scoring, spot/full UV or aqueous coating etc.
Why Get Customized Donut Boxes from PackagingBlue.Com?
Packaging is a business decision and a big one! It should be a sane decision as well. You can buy your packaging from any company, but while buying it, do not forget to consider checking the following points. These are the reasons that make any packaging the best one; these are the reasons why our customers love us:
Affordable Pricing – First and foremost consideration is pricing. While the quality of our packaging is the best, our pricing is only a very competitive and modest one.
Free Shipping – We charge whatever we charge for our packaging services; apart from them, we do not apply any hidden charges, including shipping charges.
Professional Offset Printing – The standard of offset printing that we offer is the only highly professional standard of offset printing.
Fast Turnaround Time – We have the fastest turnaround time among high-quality packaging companies working in the USA; our turnaround time is only 3 to 4 business days.
Customer & Sales Support – We offer topnotch customer support and sales support to our customers, whether they need it before sale or after the sale.
Eco-friendly Packaging – The packaging materials used at PackagingBlue.Com are 100% eco-friendly and biodegradable. They cannot cause any harm to the environment, kids or wildlife.
Still got some questions in mind? No problem, if you want to learn more about our custom toy packaging, please contact our 24/7 customer support team right now.
Other Food Packaging