Custom Quote Request Form
Display Packaging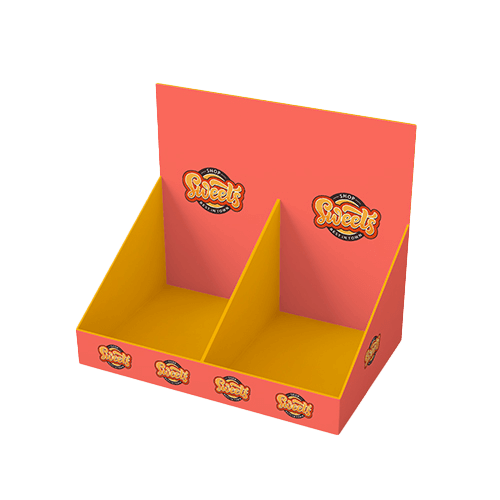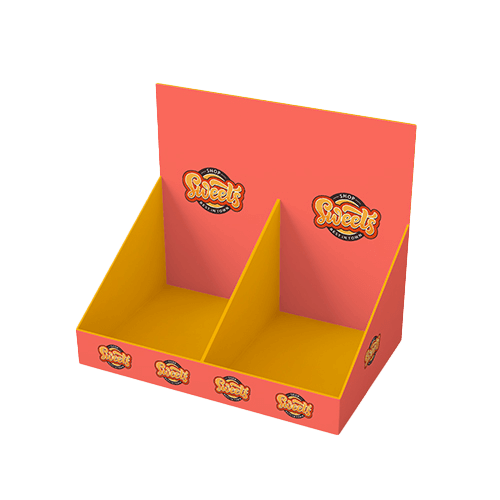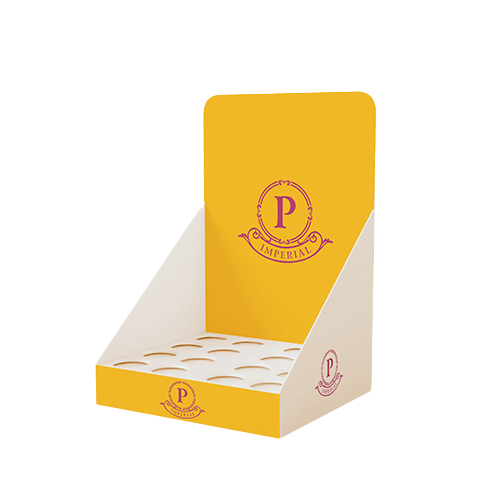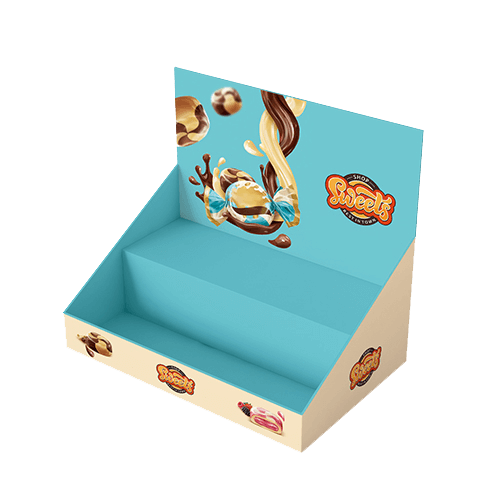 FAQ's
Specifications
Description
Reviews
Q:
What are custom display boxes?
A:
Display boxes are a perfect solution for showcasing products at mall and store point of sale stations.  The ideal placement of a display box is next to checkout counters to secure maximum customer attention. Furthermore, display boxes also serve as an effective marketing tool when designed thoughtfully.  Based on your specific requirements, these boxes are often produced using cardboard (white or kraft) and corrugated stocks in custom shapes and sizes.
Q:
What is a 'header tab' in display boxes?
A:
The term 'header tab' refers to the extended part of the back wall of a display box.  This extended section allows additional room for printed graphics and content.  Essentially, the most important marketing and product focused content is placed on this tab for maximum visibility.  A header tab can be cut to a custom shape or design for a distinctive look.  Header tabs can also have custom cut lines, perforation lines, and custom shaped die cut holes to meet a wide array of specific branding and display requirements.
Q:
What are different types of inserts that can be ordered with display boxes?
A:
A wide variety of purpose-based inserts can be ordered along with display boxes.  By adding custom cut lines and holes, these inserts can be designed to create compartments to hold products of assorted dimensions.  For enhanced visibility of products that are placed in the rear rows of a display box, inserts can also be designed to incorporate elevated steps in order to improve product visibility.
Q:
Is there a minimum order quantity for custom printed display boxes?
A:
No, there is no minimum order size requirements for custom printed display boxes.  You can order as few boxes as you like. It is recommended to order a few boxes if you need a sample to check or test before confirming a large order.  However, due to initial costs involved to start a print job, ordering larger quantities will result a lower per unit cost.  Your account representative can help you find the most efficient solution in order to keep your total project costs low.
Q:
How do I measure the length, width, and height of my custom printed display boxes?
A:
With the box open toward you, here is how to get the correct measurements for the inside of the box:
The length is measured from the left to right side of the box.
The width is measured from the front to the back side of the box.
The height is measured from the top to the bottom side of the box
Q:
The proof for my product boxes looks blurry. Will it print that way?
A:
No. The emailed proofs are intended only to show how the graphics align on the box. The actual print is typically sharper, as long as the design file is created using vector or high-resolution graphics. If your graphics appear to be at too low a resolution, you will be contacted by our design team. If you have any concerns, please feel free to ask us a question.
Q:
How long does it take to produce custom printed display boxes?
A:
Orders for sample display boxes can take 6-8 working days to produce. This production estimate is dependent on the complexity of the design.
Bulk orders of custom printed display boxes take approximately 10-12 business days to print. Shipping transit time is in an additional 3-4 business days.
Please note that these timeframes are approximate and can vary based on the customized requirements of the design and load on our production facilities. If you have specific deadline that you need to meet, please make sure to discuss such requirements with your account representative.
Material
White: Uncoated Stock, Textured Stock
Brown: Natural Brown Kraft Card Stock
White Front Colored Back: CCNB (Grey Back), CCKB (Kraft Back)
Shipping Boxes: Brown Corrugated Stock or Forte
Material Thickness
Cardstock Thickness: 12pt, 14pt, 18pt, 24pt, Custom
Corrugated Stock: 3-ply corrugated
Finishing Types
Lamination: Gloss, Matte, Sandy Matte, Soft Touch, Linen
Coating: Gloss AQ, Satin, Varnish, Spot UV, Flood UV
Features
Foil Stamping
Embossing
Debossing
Die Cutting
Metallic Inks
Custom Size
Other Options
Scoring and Gluing
Custom Perforation
Self-Adhesive Tape
SKU#
DBCP-104
What is a Point of Sale Display Box
A point of sale display box, also known as a POS display box, is a type of packaging or marketing material used to promote a product at the point of sale in a retail setting. These boxes are typically designed to be placed near the product on a store shelf and are often used to draw attention to a new product or to promote a product on sale. They can be made of various materials, such as cardboard or acrylic, and come in different sizes, shapes, and colors.
Different Types of Point of Sale Display Boxes
There are several types of display boxes, including:
Countertop displays: These are small, freestanding displays that can be placed on a counter or other surface. They typically hold small items such as candy, cosmetics, or electronics.
Floor displays: These are large, freestanding displays typically placed on a retail store's floor. They can be used to hold a wide variety of items, such as clothing, shoes, or large electronic devices.
Dump bins: These are large, open containers that are often used to hold discounted items or overstock. They are typically made of cardboard or plastic and can be placed on the floor or a counter.
Hanging displays: These are displays that hang from a ceiling or wall and are often used to hold items such as clothing, jewelry, or small consumer electronics items.
Shelf displays: These displays are designed for sitting on a retail shelf, either in a store or in a warehouse.
Rotating displays: These displays rotate, which helps to attract the attention of a shopper. These are usually used for displaying high-value, eye-catching items like luxury watches or jewelry.
Custom displays: These displays are made to order according to the retailer's specific requirements, usually for a particular product line or campaign.
Signage: Point of sale displays can also include signs that provide information about products or promotions. These can consist of banners, posters, and window decals.
Pop-up Displays: These displays are designed to be easy to set up and take down, making them ideal for trade shows or temporary retail spaces. Examples include pop-up banners, tabletop displays, and portable sign stands.
End Cap Displays: An end cap display is a merchandising display typically found at the end of aisles or at the ends of rows of retail stores. End caps are used to draw attention to specific products, promote sales, or highlight new or seasonal items. They are usually highly visible and are often used to feature products that are on sale or that the store wants to promote. End caps typically consist of one or more shelves and may be illuminated or feature other types of eye-catching displays.
Other Display Packaging