Custom Quote Request Form
Macaron Packaging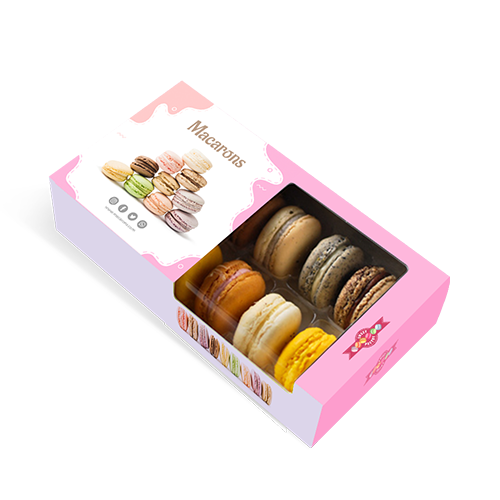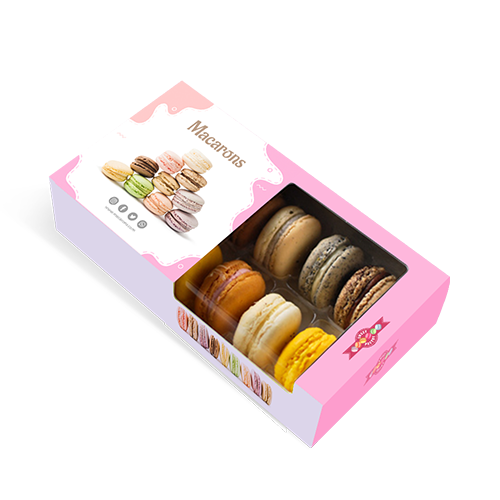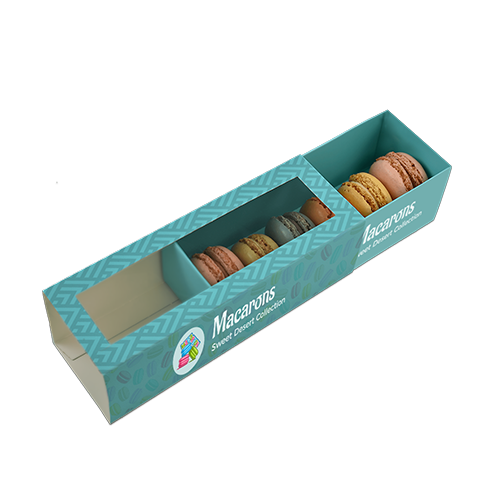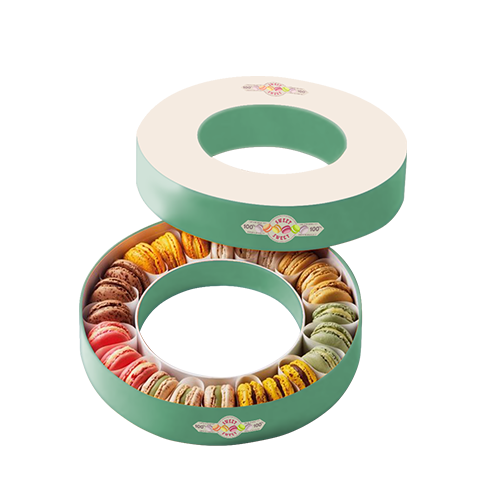 Specification
Description
Reviews
Material
White: SBS (C1S), SBS (C2S), Uncoated Stock, Textured Stock
Material Thickness
Cardstock Thickness: 12pt, 14pt, 18pt, Custom
Finishing Types
Lamination: Gloss, Matte, Sandy Matte, Soft Touch, Linen
Coating: Gloss AQ, Satin, Varnish, Spot UV, Flood UV
Features
Foil Stamping
Embossing
Debossing
Die Cutting
Metallic Inks
Custom Size
Other Options
Window Cutouts
Scoring and Gluing
SKU#
FP-012
Custom Printed Macaron Packaging & Boxes
Life is not as rosy and velvety as we wanted it to be, but we can thank God for those delicious and velvety macaroons that come in high-quality custom macaron boxes, or else they would be perished and disfigured in a matter of time. However, the perishable nature of macarons is not the only reason why one needs customized macaron boxes; there is more to it. The customized packaging has become a branding and marketing necessity these days, and unless your packages are more appealing and compelling than the macaron boxes of your competitors, you have no chance to beating them and making more sales than them.
Why Get Custom Macaron Boxes?
You can get readymade macaron boxes as well and still do fine. At least you will be able to pack, store, ship and display your delicious products. However, there is more to packaging. Macaron is an edible product and thus it is of a perishable nature too; it needs protection from the UV rays and moisture as well. Above all, due to its delicate structure, it needs protection from moisture. This is not something that readymade macaron packaging can do.
To do this, you need to use the custom made boxes with dense sheets of corrugated fiberboard so to protect the macarons from impact and UV rays, and you need an aqueous coating to keep them away from moisture. Also, lest we forget, the packaging is not only packaging anymore; it is marketing as well. Only custom-made macaron boxes can impress the target customers and entice them into opening the box to check your high-quality macarons. Rest assured, if your macarons are even half as good as you think, they will sell.
What is in a Personalized Macaron Box?
If personalized macaron boxes were not needed, all those bakeries and macaron confectioners would not have opted for customized macaron boxes. Here are the most important reasons why you need custom designed macaron boxes:
Material – the First reason why you should choose custom macaron boxes is the material. While in case of readymade packaging you cannot choose the material, in case of custom macaron boxes you can choose from corrugated fiberboard, cardboard, Kraft and Bux board etc.
Colors – Likewise, in case of customized boxes, you are given at least two color choices to pick from CMYK color model or Pantone color.
Shape & Structure – The shape and structure of customized macaron boxes can be fashioned the way you like. You may choose from various options such as bottom with display lid, die cut window pane, 123 bottom, auto-bottom, straight tuck-end and reverse tuck-end etc.
Design & Finish – In terms of design and finish it is that you see the maximum number of customizations. We are talking about immense customization effects such as PVC sheet, gold foil or silver foil, gloss or matte finish, embossing or raised ink or debossing etc.
Why Get Customized Macaron Boxes from PackagingBlue.Com?
There are certain reasons why bakeries and confectioners choose us and never look back. Here are the undeniable reasons why you should try PackagingBlue.Com:
Affordable Pricing – Although the packaging quality provided by PackagingBlue.Com is a class apart, we still have very modest and affordable pricing.
Free Shipping – We do not charge you for the shipping of your macaron boxes; we bear the shipping charges.
Professional Offset Printing – We deal in offset printing of the best quality and market standards.
Fast Turnaround Time – Although our pricing is highly affordable, our turnaround time is the fastest. We ship your products in only 3 to 4 business days.
Customer & Sales Support – With highly qualified, trained and experienced customer and sales support teams, we take care of your pre-sale and post-sale concerns better than any other packaging company.
Ecofriendly Packaging – We do not use hazardous packaging materials like plastic. Our packaging materials are 100% ecofriendly and highly biodegradable.
Still got some questions in mind? No problem, if you want to learn more about our custom toy packaging, please contact our 24/7 customer support team right now.
Other Food Packaging